Okay, so this is kind of a weird fact about me: I love Indian culture. As in, the country India (but Native American Indians are cool too).
This might seem incredibly random, but it's true---I love the bright colors, their emphasis on family, how their wedding celebrations go down (for like, 5 days), their movies....and most recently, their biggest celebrity couple, known as "Ash and Abhi." (Full names:
Aishwarya Rai and
Abhishek Bachchan.) They're married, and are about a gazillion times more popular than Brad & Angelina (and they're a whole lot classier).
I saw Ash and Abhi on Oprah the other day and was so pleased to see Ash because she was in the Bollywood film "Bride and Prejudice." (In case you didn't figure it out, Bollywood is the Indian version of Hollywood.) I decided to check out Bride and Prejudice several months ago because I was curious about their movies. Bend It Like Beckham is one of my very favorite movies (again, I don't know why---soccer and Indians....random?), so I thought I'd like to try others in that genre.
Sidenote: Probably another reason why I love this movie is because Jonathan Rhys-Meyers is in it. I met him in London and haven't been the same since. He's super dreamy.
Anyway, I loved Ash in Bride and Prejudice. However, Bollywood is way different because from what I understand, almost every movie is like a musical. There's always a big dancing number, and they just burst into song at random times. It's weirdly cool.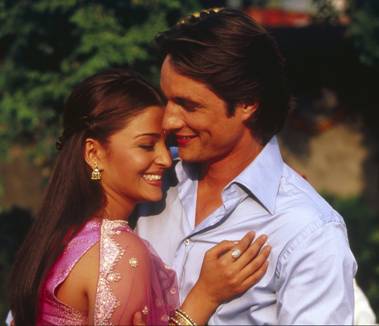 So when I saw Ash and her husband on Oprah, I was way excited!
Is she not insanely gorgeous?
Okay, sorry...I'm kind of obsessed. But I kind of wish we wore saris. They're so glittery, bright and pretty. It also helps if you look like this wearing one:
This was also nice to know: Ash's husband Abhi said that in Bollywood, the physical side of a relationship isn't usually shown in their movies because "audiences don't really expect it or need it."
How refreshing.
In Bride and Prejudice, there was barely a kiss!
So why not give my girl Ash some love and check out Bride and Prejudice or another Bollywood film. You might be surprised! :)