Growing up, we didn't "celebrate" Halloween. It just wasn't something my parents wanted to emphasize. They weren't fanatical about it; we just didn't decorate our house in spooky things or go trick-or-treating. Instead, we went to the Fall Festival at church. And honestly, we loved it!! I really never felt like I was missing out on anything. Probably because the thought of knocking on a stranger's door and asking for candy sounded completely creeper to me?
Anyway, Kurt and I don't plan on emphasizing or celebrating Halloween in our family, but we do think that there is something to be said for good, clean, old-fashioned fun around fall and harvest time. Some of my favorites:
It's the Great Pumpkin, Charlie Brown! (This is Kurt's favorite. I've actually never watched the whole thing. It was kind of boring to me. GASP.)
An old-fashioned vintage greeting:
The Legend of Ichabod Crane and Sleepy Hollow. However, I only like the beginning: happy, light, and sing-songy. I don't watch the rest. :)
This represents one of my favorite movies, Meet Me In St. Louis. But, again...I always found the Halloween scene a bit boring. I really think it's because I just don't care for the holiday. But it's still old-fashioned Halloween fun, even if it's not for me :)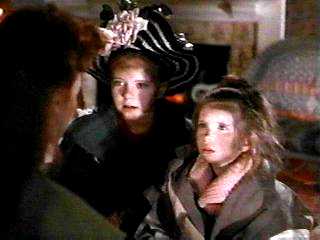 You knew it was coming....
Last year we were at Disney World during the Halloween season, which included Mickey's Not So Scary Halloween Party after park closing. Even though we didn't go (and I didn't take this picture), there was something spooky-magical about it. ONLY Disney could make me a tad bit tempted to stay for the HalloWishes party. ONLY Disney.
The only thing spooky I've ever enjoyed or wanted to do (or that our parents ever let us do) is the Haunted Mansion at Disney World. Probably because a) it's Disney and b) it's just creepy enough to give me a little bit of the heebie jeebies, but not enough to give me nightmares. And I have nightmares very easily. So, again...only Disney.
The Haunted Mansion in all its glory!
Finally, it's time for the big reveal:
Happy Harvest from our little flower!
These were taken with my phone (because I'm still waiting for the computer to get here), but I had to show you! We went to the pumpkin patch and took some pictures today and had a family night at home this evening....just perfect. Kurt and I are going to watch The Man In the Iron Mask tonight....which kind of goes with the Halloween theme because it has to do with a mask...?? Ha!
Evy Kate seriously couldn't be any cuter....this costume was just too much! :) Happy Fall, Harvest, and Autumn Time. I have wonderful pictures to show you soon, once I have them uploaded....this season has just been beautiful, and I'm so thankful we've been able to enjoy it.
Happy Evening!